A product line offered by Action Meals in traditional full MRE format. Each HeaterMeals 3 includes: A Tasty 12 Ounce Entrée, Kings Fancy Fruit Mix, One pack of M&Ms, One Chocolate-Peanut Butter Squeezer, A Powdered Drink Mix, Spoon, Napkin, Salt and Pepper
---
Available Menus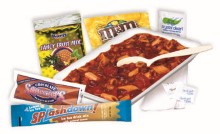 Chicken Pasta Italiana:  A delicious meal straight from Mama's kitchen! This meal features a tasty blend of chicken, rigatoni noodles, tomatoes, kidney beans, zucchini, and carrots in a zesty tomato sauce.
Green Pepper Steak with Rice: Generous potions of steak mixed with green peppers and rice make this a succulent choice for any taste. With just 10 g of sugar and only 470 mg of sodium, it is a healthy selection as well.
Homestyle Chicken & Noodles in Gravy:  This is a down-home favourite made available for everyone. The delicious chicken, gravy and noodles will delight any taste. This meal has only 3 g of sugar and 460 mg of sodium.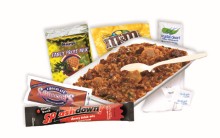 Southwest Style Chicken with Rice & Beans:  It's a favourite from south of the border.  A mix of chicken, rice, refried beans, corn and red and green bell peppers with a hint of cilantro and onions.

Vegetarian Pasta Fagioli:  This Italian favourite includes rigatoni noodles, vegetarian sausage, kidney beans, lentils, carrots, tomatoes, and tofu in a subtle, peppery flavoured sauce.
Zesty BBQ Sauce Diced Potatoes with Beef:  This sweet, rich, tangy combination of diced beef and potatoes brings a fresh taste to mealtime. It is perfect for tailgating, hiking… anytime. It's a hearty way to satisfy any hunger.