Action Meals has sold over 3.5 million Flameless Ration Heaters (NSN 8970-21-914-9860) and nearly 1 million of our Action Meals (self-heating MREs).
Our exclusive flameless ration heaters are perfect for outdoor enthusiasts of every kind. Campers, hikers, and boaters can all enjoy the comfort of hot food, with minimal preparation. Our flameless ration heaters are safe, both in tented environments and confined spaces, and eliminate the need for matches, open flames, or electricity. 
Our flameless ration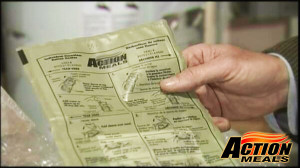 heater (FRH) technology enables you to heat your Action Meal to a ready-to-eat temperature of 80°C in just 12 minutes. No appliances required!
When water is added to the heater sleeve, it reacts with a mixture of magnesium iron alloy and sodium chloride (FDA approved food grade additives) which generates heat and steam.  
Our flameless ration heaters are specially designed to accommodate Canadian Forces IMPs (Instant Meal Packs), but they also work with with US civilian MREs and, of course, with our own Action Meals.  Action Meals come in a variety of delicious menus, as pre-packaged, individual meal packs, heated by our patented FRHs.
---
Specifications

Weight of one heater sleeve: 25 g (0.88 oz).
Weight of one case (500 heater sleeves): Approx. 28 lb (12.7 kg).
One pallet: 27 cases (13,500 heater sleeves) 789 lb (358 kg) (including weight of pallet).
Dimensions of one heater sleeve: 14.5″x 6.5″ (36.8 cm x 16.5 cm). When folded 6″ x 6.5″ (15.2 cm x 16.5 cm).
Dimensions of one case (500 heater sleeves): 14″ x 17″ x 13″ (35.5 cm x 43 cm x 33 cm).
---
FRH Directions:
To cook the meal, insert the unopened meal pouch inside the MRE Heater sleeve. Make sure the heating pad is under the meal at all times when activated. To activate, add water to the fill line. The meal heats to approx. 80°C from normal room temperature in 12 minutes. If the meal is frozen, it is best to use 2 MRE heater sleeves; one to defrost and the other to cook the meal.
Patented flameless ration heater technology (NSN 8970-21-914-9860).